Polythene mailers
Polythene mailers come in a wide variety of styles, shapes and sizes . They are designed to meet the many different types of products that need mailed. Other than mailing they will protect your product from weather or punctures. Polythene mailing bags are the popular choice in today's business world as well as a popular mailing bag choice for personal mailing needs.
There are many choices of polythene mailers available on the market today that you should be able to find the right product to meet your particular needs. Plastic mail order bags can be clear or coloured and come in a wide range of sizes from smaller than an envelope to quite large. They can also be high or low density polythene, flat, ziplock or zipper mail bags, gusseted, reinforced and cushioned. Some are also made with laminated paper.
Printed mailing bags - stand out from the crowd!
There are hundreds of mailing bags to choose from, but one way to guarantee you'll like the mailing you get is to design your own! We offer a printed mailing bag service, allowing you to personalise all of your mailers with a company logo, branding or a message to your customers - whatever you want to include on your mailers we can accommodate it.
What better way to stand out from the crowd of mail on the door mat, cubby hole or mailbox every morning than with a personalised, company branded, mailing bag. You can even design seasonal mailing bags to suit the time of year - e.g. Christmas - to stand out from the crowd and give your customers something to remember to you by.
Printed packaging creates customer loyalty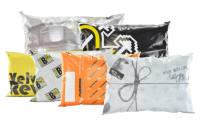 Not only do printed mailing bags and other printed packaging help you stand out from the crowd, but they have been proved to create such a positive impression with customers that they actually increase customer loyalty.
An e-commerce packaging survey by Dotcom Distribution, a US-based strategic logistics partner, found that 52% of consumers were likely to make repeat purchases from online retailers that delivered their products in premium packaging, such as printed mailing bags complete with company branding.
Dotcom Distribution president Maria Haggerty said: "Customers look for the 'wow' factor when shopping online, as they miss out on the in-store experience. Premium packaging for online purchases delivers a brand's in-store experience to an e-commerce customer."
Source: 'Brown Boxes Don't Deliver for Brands' - Dotcom Distribution eCommerce Packaging Survey, 2013
Trending results for polythene mailers
Economy Mailers | Corrugated Garment Mailers (50)
Polybags
How Can Printed Mailing Bags Help To Boost Brand Identity?
Another reason that a printed mailing bag could be a benefit to you is because of consistent branding. When creating a emblem identity, you want all element to work together for the ultimate company experience. By utilising printed mailing bags, you are taking advantage of all opportunity and are maintaining an element of professionalism even after the order has been placed. This is beneficial to the business as you are opening the door to repeat business and increasing the changes of better profit margins and client acquisition rates.
Custom printed courier bags: The cost-effective method ofbranding
Tamper Proof Courier Bags have manufactured a significant insurgency in the business of bundling and dispatches. These packs manufactured sending
Sizzix File Folder Plastic Envelopes-Clear 6.875"x5", Light Clear
Are you pleased with the performance of your Sizzix File Folder Plastic Envelopes-Clear 6.875"x5", Light Clear? Are you getting top quality satisfaction with your Sizzix File Folder Plastic Envelopes-Clear 6.875"x5", Light Clear? If not then, we are prepared to acquire a permanent solution to these problems.
Common Misspellings for MAILERS
Correct spelling for the British word "mailers" is [m'e??l?z], [m'e??l?z], [m_'e?_l_?_z]] (IPA phonetic alphabet).
Grey Mailing Bags Strong Poly Postal Postage Post Mail Self Seal All Sizes Cheap Grey Mailing - £151.99
Mail Bags Post Sizes Mailing Seal Postage All Postal Strong Grey Self Poly Bag Poly Post Self Postage Grey All Sizes Strong Mailing Bags Seal Mail Postal Bag Strong Grey Mailing
polythene suppliers Mailing Bags
Purchasing a well designed and custom printed batch of polythene suppliers mailing bags is the proper method to proceed if you are looking for your message to reach the furthest reaches of the distribution world. Printed Bags UK offer the widest spectrum of bags on the market and our list of products of polythene suppliers mailing bags are the most popular of the lot!
Polybags
Details about 100Pcs Coloured Mailers Shipping Envelopes Self Sealing Plastic Mailing Bags
100Pcs Coloured Mailers Shipping Envelopes Self Sealing Plastic Mailing Bags
#ad White Poly bubble mailers 6.5 x 9 Padded envelopes 6 1/2 x 9 by Amiff. Pack of 20 Poly cushion envelopes. Exterior size 7.5 x 9 (7 1/2 x 9). Peel and Seal. Mailing, shipping, packing, packaging. White Poly bubble mailers 6.5 x 9 Padded envelopes 6 1/2 x 9 by Amiff. Pack of 20 Poly cushion envelopes. Exterior size 7.5 x 9 (7 1/2 x 9). Peel and Seal. Mailing, shipping, packing, packaging. #ad -Multipurpose envelopes can be used in offices, at home, in shops, schools and everywhere where there is a need for shipping these versatile packaging envelopes are big for mailing documents, cell phones, gift cards, invitations, books, makeup stuff, cosmetics, phone accessories, medical and drug supplies etc solid colour packaging mailers feel nice to the touch and are perfect for handwriting, labeling and stamping 100% satisfaction guaranteed. Light weight padded mailing envelopes are impressively designed to optimise space without adding additional weight utilising featherlight, nearly weightless materials, ?olored ?ushion mailers assist reduce the cost of shipping without sacrificing package safety custom envelope is manufactured of fully laminated polymailer to 3/16″ bubble film for maximum protection. White poly padded envelopes 65 x 9 poly bubble mailers 6 1/2 x 9 by amiff inc pack of 20 self-adhesive mailers shipping envelopes with peel-n-seal exterior size 75 x 9 (7 1/2 x 9) manufacturer size tolerance +/- 25″ approved by courier, ups, fedex, dhl plastic bubble envelopes are packaging suppliers's selection shipping labels easily adhere poly exterior presents a superb surface for custom print and pen writing transport with confidence waterproof and tearproof mailers. Secure & private high-slip shipping bags are two-tone robust layers assist ensure privacy by blocking light and shielding contents from view the industrial-strength, long-lasting closure seals the package absolutely without the ability to open or remove items before they arrive at their destination self-sealing robust adhesive strip self-seal closure that is pressure sensitive & tamper evident heavy-duty, moisture resistant packaging. Premium quality self sealing packing mailers are manufactured with the highest-quality, structurally sound materials to provide visual enhancement and security padded envelopes are lined with 80gsm bubble, with unique air cellular layers and 360 robust air bubble technology helping absorb shock amid shipment these heavy duty mailers are tough enough to take on long, rough shipments with multiple processing centers and handlers without risk of penetration weatherproof cushion envelopes.
Printed mailers - get a quote in 60 seconds!
Not only are we able to provide the ideal mailing for you or company through our personalisation service, but we give you an instant quote on how much it will cost!
It takes less than 60 seconds to complete our online quote form and we'll email you a quote immediately. We don't hang around and we don't want you to have to either!
Just tell us a few details about the mailing bags you need - quantity, size, polythene thickness, colour etc. - and whether you want it printed on one or both sides. We'll instantly calculate what your order will cost an give you the price there and then - in total and per bag!
Life's too short to wait around, so order your printed mailing bags with us and you won't have to - you'll have a quote in 60 seconds!
Types of polythene mailers:
Polythene mailing bags come in all shapes and sizes. They have some common features - such as their easy-to-use self-seal strip - but cater for a huge variety of postage needs with a wide range of products. Here are a few of the most popular:
Clear polythene mailers
Clear polythene mailers are lightweight and so help to reduce postage costs. They are also waterproof and tear-resistant, which makes them the ideal mailer for posting catalogues and brochures.
Blue opaque mailers
Blue opaque mailing bags are also waterproof and strong, as well as being 100% recyclable. They offer more security than a clear mailing envelope, whilst their professional appearance makes them popular with mail order or online delivery companies.
High security mailers
Tamper-evident sealing strips, thick black bags and 'VOID' labels to place across seals all feature in a range of high security mailing bags, which provide extra security and confidentiality for your mail.
Heavy duty mailers
Heavy duty mailing bags are made from a extra tough polythene - a strong co-extruded material that means you can post with confidence that your mail can withstand some rough handling in transit.
Superlight bubble mailers
If you need to post any valuable or delicate items, superlight bubble mailing bags can provide the all-important protection that they require. Lined with bubble wrap, these handy mailers are waterproof, strong and light.
Metallic mailers
Give your mail some extra va-va-voom with this range of premium quality metallic mailing bags. Available in a selection of glossy metallic colours, these snazzy envelopes are guaranteed to make an impact.
Coloured mailers
Another great way to get your mail noticed is to use a coloured mailing bag. Featuring colours such as baby pink, eco green, baby purple and glossy blue, this range of vivid coloured mailers will brighten up any delivery.
Biodegradable mailers
Look out for the environment while you send your mail with this range of biodegradable mailers. These strong mailing bags do the same great job as regular mailers, but they also biodegrade as compost once disposed of.
Mailing bags with handles
Mailing bags with a difference - with a seal at one end and a handle at the other, these bags are designed for easy handling. They are also multi-use bags, as an integral double seal allows for easy returns, making them popular with online retailers.
Polyethylene
Polyethylene or polythene (IUPAC name polyethene) is a thermoplastic commodity heavily used in consumer products. Over 60 million tons of the material are produced worldwide every year.
Classification
Ultra high molecular weight polyethylene (UHMWPE)
Ultra low molecular weight polyethylene (ULMWPE - PE-WAX)
High molecular weight polyethylene (HMWPE)
High density polyethylene (HDPE)
High density cross-linked polyethylene (HDXLPE)
Cross-linked polyethylene (PEX)
Medium density polyethylene (MDPE)
Low density polyethylene (LDPE)
Linear low density polyethylene (LLDPE)
Very low density polyethylene (VLDPE)
If you are interested in mailing you could always visit the mailing and courier bags section of packagingknowledge.com.
Get 20% off secure black mailsacks this Christmas!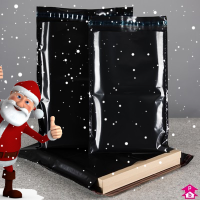 There's a fab festive offer from those fantastic folk at Polybags.co.uk this Christmas. Our parent website are giving 20% off all orders of secure black mailing sacks over £75.
All you have to do is apply voucher XMASMAIL16 and order your mailing sacks - the sleek black high security bags that Santa trusts for even his most confidential deliveries - and the discount will be automatically applied to your basket once your order reaches £75.
There's strictly one voucher per customer and it's a limited time offer, so don't delay!